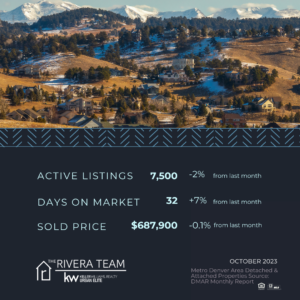 Our fall market is holding its own. Month-over-month, there's been small shifts (stats from DMAR):
– There were only 147 fewer listings for the entire metro area.
– The Average Sales Price was flat for the second month in a row.
The real sign of our seasonal slowdown was the 11% less closings and a couple of extra days tacked onto the average Days on Market.
Even with interest rates tipping over 8%, we remain a sellers' market. But as it softens the deeper we go into the fall and winter, buyers' ability to negotiate will grow. So, whether you want to make a move now or next year, let's start hashing out some details. Text or call me at (303) 868-3097.